Create A Cool Or White Roof Program
Cool roofs are highly reflective roofs that absorb less heat from sunlight and keep your building cooler
Description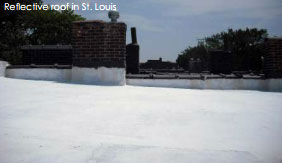 Cool roofs allow air conditioning equipment to work less and help to maintain cooler, more constant indoor temperatures. Converting an existing roof into a cool roof most commonly involves the simple application of reflective white or cool color coating, but depending on the slope, roof material, and/or personal preference, it can also be achieved using a range of other products. A Cool Roofs Program can educate community members about Cool Roofs and provide resources to implementation, such as volunteer assistance or work days.
Related Tools
When paired with other tools,creating a cool roofs program can contribute to a greater, healthier, and more energy efficient neighborhood. Think about individual prosperity, public health, and air quality. Try combining this tool with:
Community Projects
Add your project
Neighborhood Benefits
Environmental
Increased occupant comfort
Decreased air pollution and greenhouse gas emissions
Reduced waste associated with roof maintenance
Reduced contribution to the community's Urban Heat Island Effect
Social
Safer and more energy efficient homes
Reduced risk of heat-related illnesses and deaths
Reduced cost of comfortable living in hot weather
Reduced stress on the power grid
Economic
Reduced utility bills associated with air conditioning
Smaller and longer-lasting air conditioning systems
Lower roof maintenance costs and wastes
Federal Energy Star tax credits on qualifying products 
Get Started
Organize Create a planning committee for your new Cool Roofs Program. Choose people for specific tasks such as leader, fund-raising, secretary, construction, communication, etc.
Research Research existing Cool Roof Programs in other cities such as Philadelphia's Coolest Block Contest, and find out what organizing structure ensures multiple successful cool roof retrofits. Learn about the benefits of cool roofs at the EPA website, Energy Star, coolroofs.org, or local roofing businesses. Learn about methods of subsidizing the cost of a cool or energy efficient roof using the information at the Federal Tax Credits for Consumer Energy Efficiency website, Set The PACE St. Louis, and the Affordable Housing Commission.
Know the Types In general, there are four general types of products that are common for cool roof retrofits:

Coatings for low or steep sloped roofs
Single-ply membranes for low slope roofs
Reflective tiles for low and steep slope roofs
Metal for low or steep slope roofs.

Prepare Determine if you or volunteers in your neighborhood have the skills, tools, and qualifications to safely and effectively install the proper cool roof. The most user friendly of the four types listed above is Coatings. If installing an elastomeric roof coating, which is similar to a roof grade paint, there is a good chance you and your neighbors can get the job done. Basic steps for installing an elastomeric coating are:

Clean your roof of all debris using a leaf blower or broom 
Pressure wash the roof to remove dirt, stains, and mold using a pressure washer or garden hose.
Fix cracks, peeling, and blisters with sealer, reinforcer, and patching fabric.
Apply the elastomeric roof coating over the whole roof using rollers or sprayers.

Tutorials and detailed how to guides can be found online, and local hardware stores may be able to give you more information. If you do not have the skills or tools, hire a local roofing business for you and your neighbors, perhaps at a discounted price for a group rate.

Install Follow the application instructions of your roofing material carefully. Remember that many paints require multiple days of warm, rain-free weather and the painted surface to be scrubbed clean to effectively and durably coat your roof. Schedule enough time to prepare the surface and be aware that you may need to set a rain date.
Maintain Set aside time each year to clean and maintain your new roof.
Opportunities
Monitor Track your utility cost savings and find creative ways to document and inform your community about the benefits of Cool Roofs. Hold events with residents, local businesses, property owners, and environmental experts to discuss the economic and environmental impacts of applying cool roofs to more houses, schools, and businesses.
Publicize Create a block or neighborhood wide Energy Challenge to encourage tracking of utilities and long term success.
Educate Provide training for roof retrofits to neighborhood residents.  
Related Categories
Project Scale
Park
Private Site
Public Building
Download This Tool
Create a Cool or White Roof Program Doc (326.99 KB pdf)
Need Help Viewing?
You need a program that can open Adobe PDF files. A free option: