CEMA functions under the direction of Commissioner, Gary Christmann. 
CEMA's function includes the following:
Emergency operations planning
Emergency reporting of essential information to government offices
Resource Management
Training and Education
Emergency operations planning includes direction and control of emergency response activities, whether from an emergency operations center or a field location; communications capable of directing emergency response activity; and public information on relevant hazards.
Emergency reporting involves tracking and reporting use of resources and predicting future needs following federal, state and local emergency management laws.
Resource management includes maintaining contact with organizations and agencies capable of providing services, such as police, fire, and medical, as well as evacuation, shelter, utilities, and other resources that may be required to respond in an emergency.
Training and education involves providing information to public officials, emergency responders and the public regarding hazards, protection and response measures and emergency management concepts and skills. CEMA conducts regular training exercises to evaluate emergency management capabilities.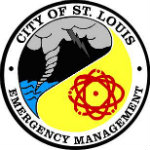 Phone: (314) 444-5466
Hours:
Monday - Friday 8 AM to 5 PM
Other hours as necessary.
Address:
1915 Olive Street
St. Louis, Missouri 63103
Get directions to this address

No email address available.