As of January 12, 2023, visitors to the Department of Revenue Fee Office (DMV) will no longer be required to sign up using the Virtual Lobby.
The DMV will now use a line number system. Once inside City Hall, visitors can proceed directly to the office, pull a number and wait in the designated area for their number to be called/displayed.
PLEASE NOTE: Visitors to the Assessor's Office are still required to register using the Virtual Lobby.
About the Collector
Gregory F.X. Daly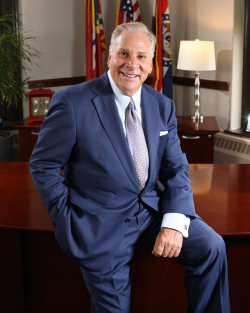 I am Gregg Daly, Collector of Revenue for the City of St. Louis, Missouri. The Collector of Revenue's office is a County office under State Statute. The responsibility of the Collector of Revenue is to collect real estate taxes, personal property taxes, the earnings tax, water and refuse bills fairly and efficiently. Taxes collected are distributed throughout the City to support various public services and city facilities. The Collector of Revenue also operates a Department of Revenue Licensing Office for the State of Missouri.
The Collector of Revenue has translators on staff for Spanish and Bosnian.
More on Collector of Revenue Gregory F.X. Daly and the Taxpayer Pledge
Contact Information
Address:
1200 Market, Room 110
St. Louis, Missouri 63103

Get directions to this address