Looking for a free fun family event in your neighborhood? 
A PIER Neighborhood Focus event is coming your way. It has a bit of everything a family needs to connect to resources to help you succeed. PIER focuses on Prevention, Intervention, Enforcement and Reentry services for our citizens to live in a safer city. 
City of St. Louis government agencies and various community service partners will be in your neighborhood offering free health screenings and other services. St. Louis Metropolitan Police [www.slmpd.org] officers and City of St. Louis firefighters will provide information on gun and fire safety. 
You are invited to visit the Citizens' Service Bureau event station to report concerns about nuisance properties, stray dogs or other problems. 
Each event will feature informational tables and giveaways. Food will also be provided on a first- come, first-serve basis, as well as the chance to sign up for prizes. 
All Events are from 10am-2pm.  The next event is scheduled for: Marquette Park (Saturday June 4, 2016)  
For future events, check out out calendar of events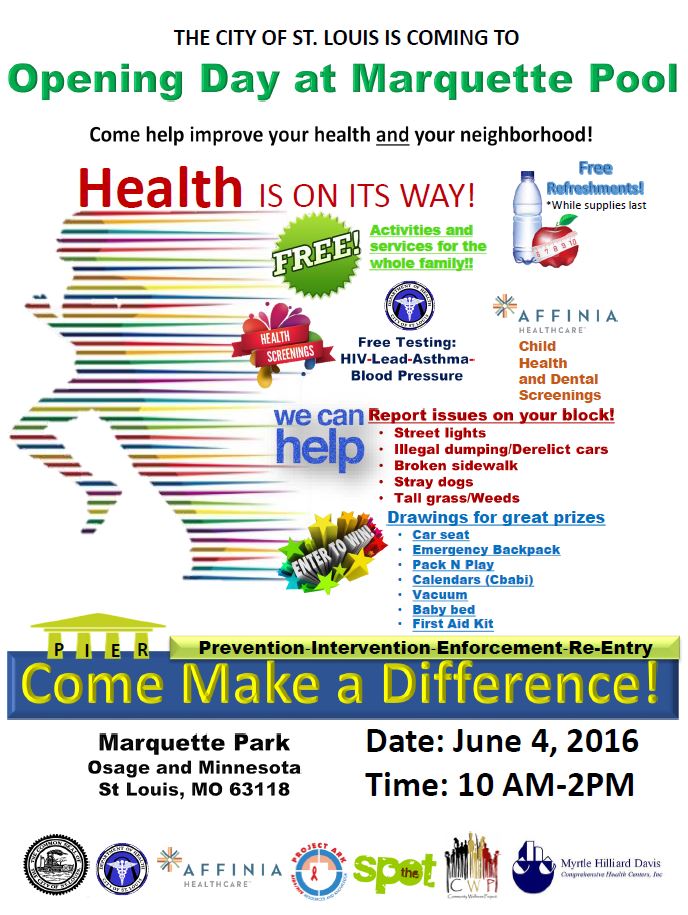 Department:


Department of Health