This article is 8 years old. It was published on June 26, 2014.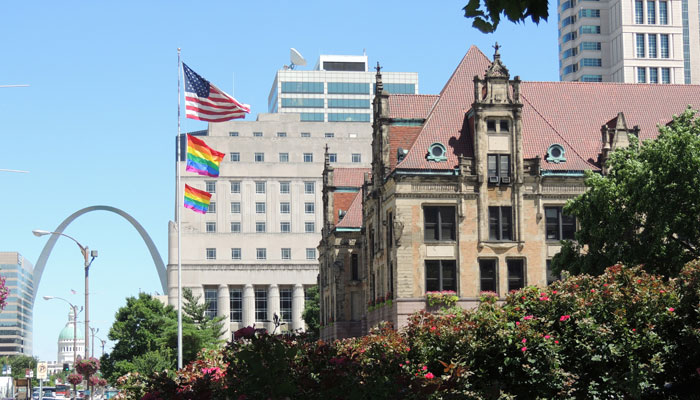 At Mayor Francis Slay's request, St. Louis City Recorder of Deeds Sharon Q. Carpenter issued marriage licenses to four same-sex couples on June 25, 2014. Immediately after, in the Mayor's office, each of the four couples was married.
"The City issues thousands of licenses ever year.  What makes these four licenses special is that they are first issued in the State of Missouri to couples of the same sex," said Mayor Slay.
"We did not decide to do this lightly," said Mayor Slay. "We did not do it without a great deal of thought and legal research."
In his remarks, Mayor Slay said he believes that strong marriages and strong families are good for our neighborhoods, our City, and our State. Each of the four couples married on June 25 is living in a committed relationship. 
St. Louis City Counselor Winston Calvert and former Missouri Supreme Court Justice Michael Wolff wrote opinions to guide Mayor Slay and Ms. Carpenter in their decisions.
"It is our belief that the U.S. Constitution requires the recognition of same-sex marriages," said Mayor Slay. "And Missouri law requires a Recorder of Deeds to issue a marriage license to any couple who is "legally entitled" to such a license.  We have created a clear, direct legal challenge to Missouri's unconstitutional ban on marriage equality. We hope to get this before the courts to settle this issue on behalf of all gay and lesbian people in our state."
This morning, the Attorney General filed a lawsuit to prevent the Recorder of Deeds from issuing further licenses to same sex couples. Out of respect for the court proceeding, the Recorder of Deeds agreed to not issue further licenses until a court has ruled that the discriminatory laws against same sex marriage are unconstitutional.
Mayor Slay congratulated the four couples and promised them their City's support.
"I strongly commend the courage of the couples, some of whom I have known for years; others of whom I have met only recently.  They will face scrutiny of the intolerant, supported by the love and respect of most fair-minded people.  I wish them every happiness, and I pledge the full resources of my office to affirm the solemn contracts they have made to each other," said Mayor Slay.
About the Couples: 
John Durnell & Richard Eaton: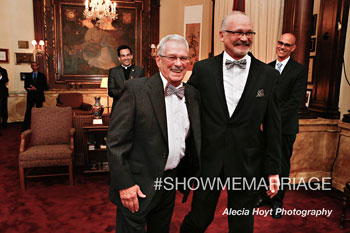 John and Richard have been in a committed relationship for 39 years. They have shared their home in Soulard since 1981. John, 63, has spent his career restoring old homes and building new ones. Richard, 75, is a retired Missouri public school educator, teacher, counselor, and retired psychologist. Both men are strong leaders in the community.
Their community involvement includes work through, Soulard Neighborhood Housing Corporation, Peter & Paul Housing Corporation, Forest Park Southeast Housing Corporation, CDA and Compton Heights Development, Soulard Restoration Group, the Human Rights Commission, Promo, Lafayette Park United Methodist Church, the ACLU and the University of Missouri.
Tod Martin & David Gray: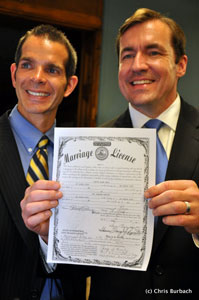 Tod and David met in 1991 and have been together in a committed relationship since. Tod and David were engaged one year ago this week on June 26, 2013 –the day that the Supreme Court handed down the Windsor decision (United States v. Windsor, 570 U.S. 12 (2013)).
They make their home in Tower Grove South, where they have lived since 1997.
David attended Vanderbilt University, graduating with a B.E. in Electrical Engineering. He moved to St. Louis in 1990 and is currently employed as a Senior Project Manager in IT for Edward Jones. David also holds a M.B.A. from Washington University in St. Louis. He's also an avid racing cyclist.
Tod attended Vanderbilt University, graduating with a B.A. in Chemistry and Molecular Biology. He moved to St. Louis in 1990, where he attended school and received a Ph.D. in Systems Neuroscience at Washington University in St. Louis. In his spare time, Tod began volunteering for political campaigns, and a hobby turned to a passion and an avocation. Tod has worked for numerous elected officials, including Alderman Florida, Alderman Gregali, Alderman Krewson, Mayor Slay and Senator McCaskill.
Since 2007, Tod has served as Deputy Chief of Staff and State Director for Senator McCaskill. From 2005-06, Tod served as Campaign Director for Claire McCaskill's race for United States Senate.
Miranda Duschack & Karen "Mimo" Davis: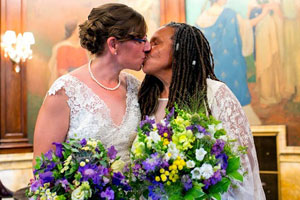 Miranda and Mimo were introduced to each other in 2010.  On September 2, 2012 they were married in spiritual ceremony.  Together they grow specialty cut flowers at their urban farm in St. Louis, Urban Buds: City Grown Flowers.  They sell at Tower Grove Farmers' Market to local florists and also furnish select events.
Miranda has a dual emphasis Bachelor of Arts Degree in Sustainable Agriculture and Sociology from The Evergreen State College in Olympia, Washington (2003).  Karen has a Master's Degree in Horticulture from North Carolina A & T University in Greensboro, North Carolina (2008).
They live in South St. Louis with their two dogs.
Bruce Yampolsky & Terry Garrett: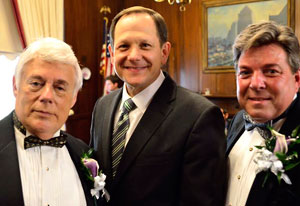 Bruce Yampolsky and Terry Garrett are today celebrating their 30 years of love and commitment.  Both are native to St. Louis.  Prior to meeting, Bruce served honorably in the United States Navy, and Terry served honorably in the United States Army. 
Both are very involved in community boards.  Bruce and Terry attended the Democratic National Convention in 1992 as well as President Clinton's Inauguration. Locally, they have served on numerous boards, such as Services & Advocacy for GLBT Elders (SAGE) and the Missouri Silver Haired Legislature. Bruce serves as the current President of both organizations. 
As the former 28th Ward Democratic Committeeman and Finance Chair of the Central City Democratic Committee, Bruce, with his partner Terry at his side, was the first openly-gay elected official in the City of St. Louis.
Department:


Office of the Mayor