Preservation News & Alerts
News items and alerts about pending preservation or demolition issues
 Preservation News
Forum and Call for Presentations
Monday, November 30th 2015 Forum!
Draft Compatible Contemporary Design Standards for Historic Districts
The Cultural Resources has developed a standards for the review of new contemporary designs that are compatible in established historic districts.  Download a copy of the draft standards.  
Comments are welcome. Please direct them to:
Betsy Bradley, Director
Cultural Resources Office
1520 Market Street, Suite 2000
St. Louis, MO 63103
bradleyb@stlouis-mo.gov
CRO Completed Grant to Study Flounder Houses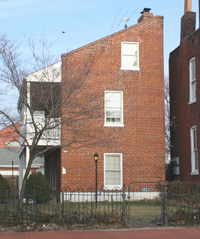 The Cultural Resources Office has completed a Historic Preservation Fund Grant from the Missouri State Historic Preservation Office to survey and study the City's historic Flounder houses, as the first phase of an effort to promote their preservation and reuse. This rare property type, sometimes called a "half-house," is present in only a few eastern cities and St. Louis. Watch for the posting of the Survey report and other information in September 2015
At left is a beautifully restored Flounder house in Soulard.
New National Register Historic Districts and Individual Property Listings:

The following Individual Properties have been listed in 2014:
(current as of 11/18/14)
Hamiltonian Federal Savings & Loan Association Building (1/14/14)
3150 S. Grand Boulevard, Ward 8
5882 Cabanne Courtyard Apartment Building (6/27/14)
5882 Cabanne Avenue, Ward 26
Downtown YMCA Building (6/27/14)
1528 Locust Street, Ward 7

Listing in the National Register of Historic Places is an honorary designation, and allows property owners to apply for Historic Tax Credits for substantial rehabilitation of their property.
Agendas:
The Cultural Resources Office is trying to be greener!  If you don't need a printed copy of the Preservation Board agenda, download a PDF copy
here
.  Or
Email us
to be added to our email list.
Central West End Revised Standards Now in Effect
Revisions to the Central West End Historic District Standards were approved and fully adopted by the Board of Alderman. The new standards went into effect on March 23, 2013.