City Landmarks and Landmark Districts
Please note that City Landmark Districts are the same as City Landmarks except they contain more than a single designated resource.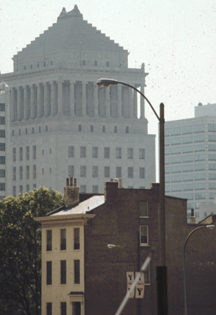 City Landmarks are sites, buildings or structures recognized as important to the history of St. Louis. They must also:
Have significant value to the history or architecture of the City, the State or the Nation; or
be the site of a significant historic event; or
be the work of a master who has greatly influenced the development of the City, State or Nation; or
contain innovative elements of design, detail, materials or craftsmanship; or
represent an established visual feature of a neighborhood, community or the City; or
yield, or be likely to yield, important prehistoric or historic archaeological artifacts; or
be a work of art in a public space.
City Landmark Petitions may be initiated by the property owner, the Alderman of the Ward where the property is located, or by the Cultural Resources Office at the request of the Preservation Board. The petition must be approved by the Planning Commission, the Board of Public Service, the Preservation Board and the Board of Aldermen for designation to take place. Each petition includes rehabilitation standards for the preservation of the proposed Landmark.
Once a City Landmark is designated by ordinance, the Cultural Resources Office reviews all proposed alterations to designated features of the Landmark for compliance with the Landmark Standards.
1 comment from someone like you has helped us improve this page. Keep the feedback coming!