Anheuser-Busch Complex - City Landmark #16
National Historic Landmark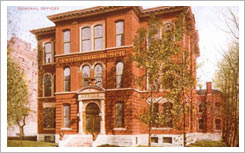 The Anheuser-Busch Complex is made up of 137 structures and it takes up nearly 142 acres of land.  Most were built before the turn of the century in the Romanesque style.  Three buildings have been placed on the National Register of Historic places: Administration Building, originally built as Lyon School in 1868; the Circular Stable built in 1885, and Brewhouse constructed in 1891 and designed by Widman, Walsh and Boisselier.
The three buildings became City Landmarks in 1971.  The brewery is also a National Historic Landmark.
   Click on the window to choose another landmark