Eads Bridge
Eads Bridge National Historic Landmark
Eads Bridge - City Landmark #1
National Historic Landmark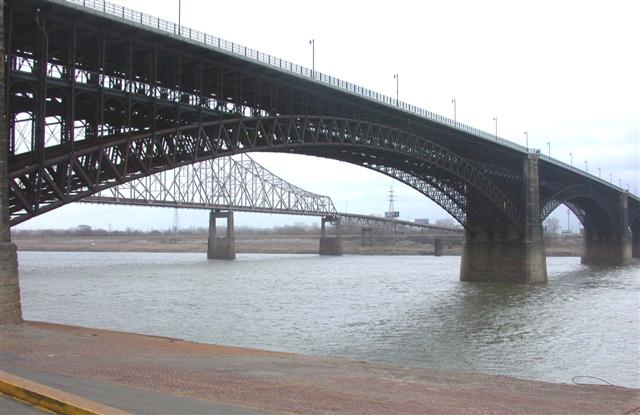 Eads Bridge is the world's first steel-truss bridge, and an engineering marvel.
After the Civil War and the expansion of the nation's railroad system, it became apparent that for St. Louis to survive, a bridge across the Mississippi River was essential.  In 1867, the St. Louis Bridge and Iron Company, made up of a group of City bankers and businessmen, hired James Buchanan Eads (1820-1887) to build one.  Eads was a self-educated engineer and had never built a bridge before.  But during the Civil war, he had been called on by Washington to construct several Ironclad gun ships and completed his contract in an incredible 65 days.
The construction of the bridge began in 1867.  Giant granite-faced piers support three graceful arches and two decks.  Eads Bridge was the first bridge to carry railroad tracks, the first to use tubular cord members and the first to depend entirely on cantilever construction for its superstructure. Pneumatic caissons were used for the first time in the U.S. in the construction of its piers, which were sunk to the unprecedented depth of 123 feet.
The bridge was completed for a cost of nearly $10 million, and dedicated on July 4, 1874.  In recognition of this unparalleled engineering achievement, Eads Bridge was named a National Historic Landmark, the highest designation given by the National Park Service, in 1964.  It was made a National Historic Civil Engineering Landmark by the American Society of Civil Engineers in 1971 and designated a City Landmark the same year.
Click on the window to choose another landmark