Common Zoning Questions
Common Questions About Zoning
Zoning Processes & Applications
How can I find the zoning of a parcel?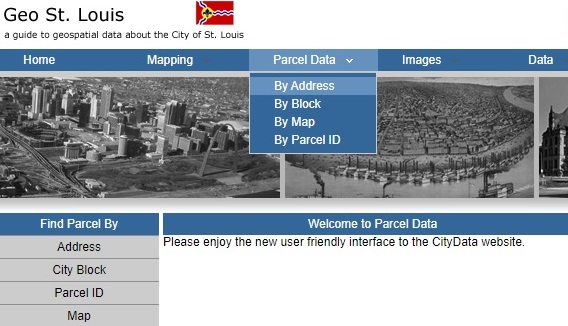 Current zoning for all parcels is available on Geo St. Louis. 
Click on 'Parcel Data' in the upper menu bar and select 'By Address' from the dropdown menu.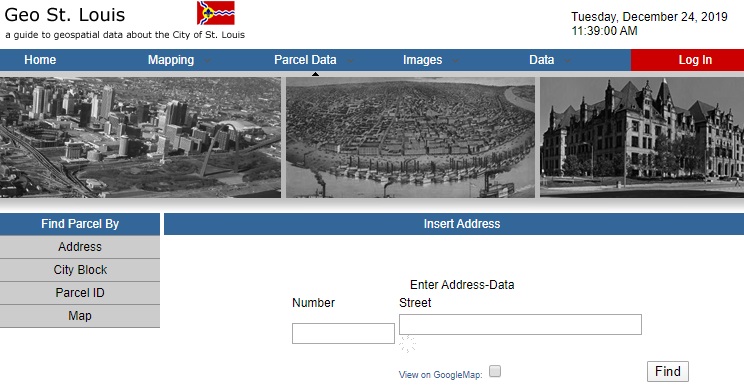 Enter the street number and name with no punctuation. For example: "1200 Market".
Note: If the address isn't found or has multiple matches, you'll see a list of options to select from. If the results page is empty or gives a list of incorrect addresses, double check the address and/or try a nearby address and navigate in the map to your actual target.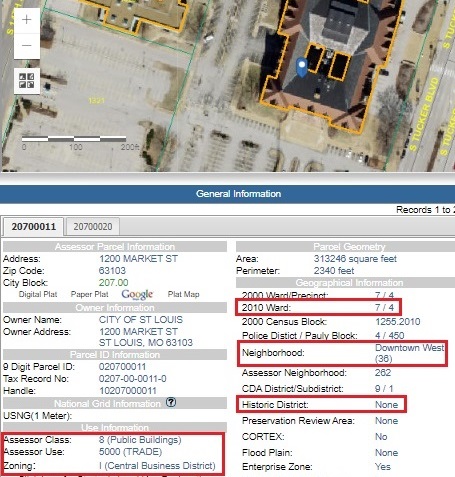 The zoning and assessor information will be on the lower left corner of the General Information page of the parcel data. Additional useful information includes the ward, neighborhood, and location in a national or local historic district.
How do I know what the setbacks are for a parcel?
Setbacks- front, side, and rear- depend on the zoning district. Once you verify the zoning designation of the parcel, you can look up the applicable setbacks in the zoning code. The following statements are generally applicable:
Side yard Setbacks
Dictated by the zoning district and may be modified based on the lot width (zones A and B only) and type/height of the proposed structure.
Rear Yard Setbacks
Distance required between the structure and rear lot line, apply to primary structures and vary by zoning district. Primary structures must typically be a certain distance away from the rear lot line to provide a rear yard, but residential garages/carports must be 5' or less from the alley/rear boundary.
Front Yard Setbacks
Often more difficult to determine. An easy option is to match the setback of an existing structure immediately adjacent. If you do not have or wish to match an existing adjacent structure, you will need to match the existing building line.
A building line survey may be ordered from Zoning for $25.
If there are no/not enough nearby structures to establish the building line, you may be able to simply choose your setback from within certain range established for the district.
In all cases, please check the requirements for the applicable zoning district.
What if my project won't comply with the required setbacks?
If your setbacks aren't compliant with the code, you will be notified and given an opportunity to revise them. 
If the project sits to closely to a neighboring property line, this can typically be resolved with a  maintenance agreement signed and notarized by the neighboring property owner.
If a maintenance agreement isn't applicable or you can't/ don't wish to secure a maintenance agreement, your permit will be denied. You then have the option to appeal to the Board of Adjustment for an area variance.
If a property is in a commercial zone, is residential allowed?
Yes. With the exception of the J-Industrial District where new housing is only allowed if 40% of the frontage is already residential, residential uses are permitted. The number and density varies by district, but -with a few exceptions- the zoning code is cumulative, meaning what is allowed in A- Single Family District is also allowed in the B- Two-Family District and so forth. 
So when a property is, for example, in the H- Area Commercial District, it means that a variety of commercial are also allowed, not that uses may only be commercial.
Is a property in a Form-Based, Special Use, or Historical District?
There are currently two Form-Based Districts: 1) The Central West End and 2) Forest Park Southeast (The Grove). They are subject to the regulations in Ordinance 69406 and Ordinance 70732, respectively. These regulations override the underlying zoning; many things that would be allowed under the underlying zoning are not allowed by the relevant Form-Based Code. Please review the regulations before beginning a project to avoid delays.
Should I be concerned the recorded assessor use and zoning don't match?
Probably not. It is relatively common for property owners and real estate professionals to ask zoning staff this question, but there is very rarely any actual issue.
Commercial uses which wouldn't be permitted under a parcel's current zoning often predate the current zoning or the entire zoning code and are 'lawfully nonconforming uses', which means they have the right to continue operating as they did before the change. Other businesses have been granted conditional use approval or a use variance to operate. Nonetheless, if you are concerned about the legality of a business, feel free to contact us to verify, and, if needed, bring the property into compliance.
Residential uses in commercial districts are even less cause for concern as residential uses are allowed in all districts, including commercial, except for the K-"Unrestricted" zone and all frontages of J-"Industrial" that don't have existing residential. 
What is a Zoning Only application?
A Zoning Only permit application enables Zoning staff to review a project before full construction drawings are created. This allows applicants to ensure the project is feasible before investing additional funds. It also lets projects which require a hearing get on an agenda earlier than would be possible if they waited to submit full plans.
If approved, Zoning Only applications are converted to full building permit applications; no new permit application is made; the five (5) sets of full building plans go directly to the assigned Zoning Plan Examiner in Room 400.
How do I apply for a building or occupancy permit?
Commercial Occupancy Permits and Home Occupation Waivers (HOWs) can be applied for online. 
You can also apply for a HOW in person at Room 400.; they are issued same day unless additional documents or a hearing is required.
Incidental Business Waivers can only be applied for in Room 400. 
Permits to operate in an established business incubator are issued by the Business Assistance Center.
Building permits -including Zoning Only and Signage- must be submitted to Room 425, City Hall.
Sign applications must include:
Sign design and size,
Structural/mounting details, if applicable
Any interior/exterior lighting 
A site plan indicating the location of the new signage and any existing signage, and
Whether the sign will be an Electronic Message Center (EMC)
Zoning Only applications require two (2) sets of plans which include a site plan, floor plans for all levels, information on proposed use, and elevations of all facades. Applications in Form-Based and Historic Districts should also include information on materials planned for building facades.
Additional information on applying for a permit can be found at the Building Division's Permits page.
How does the permit review process work?
All permits- except Incidental Business Waivers and Home Occupancy Waivers- are initiated by the Permit Office (Rm 425, City Hall). Under normal circumstances, most permits for smaller projects can be issued the same day 'over the counter'. Larger projects, commercial projects and those with zoning issues require additional review. Plans (typically five (5) sets, two (2) if zoning only) are routed to the relevant departments for approval. This process typically takes 2-4 weeks, but can take longer if plan revisions or hearings are required. Note: Until further notice, all permits will be routed due to COVID-19. No same day permits will be possible.
Can I get on an earlier agenda for my hearing?
No. Hearings are scheduled first come, first serve. If you are concerned about you hearing date, please call Zoning staff to discuss other ways to reduce impact on your project.
How do I combine, subdivide, or adjust the boundaries of a parcel?
Changes to parcel boundaries start with the Board of Public Service (BPS) before being reviewed by Zoning staff. For detailed information on initiating that process, call (314)622-5513.
What if the zoning of a parcel doesn't allow my intended use/project?
If your use is not allowed, the application will be referred to either a Conditional Use Hearing (for conditional use approval) or to the Board of Adjustment (for a use or area variance). Prior to a hearing, it is strongly recommended to gain written support of your alderperson as well as your neighbors and any applicable neighborhood associations or improvement districts. If granted, your Conditional Use approval(s) and/or Zoning Variance(s) will enable project review to proceed. Actual rezoning of a parcel is rarely needed or possible.
What if a property has two zoning designations?
Occasionally, parcels have multiple zoning designations due to past parcel consolidations. In instances of 'dual zoning', the most restrictive designation is used. Owners of dual zoned parcels are encouraged to apply for rezoning so that an appropriate, single zoning designation can be applied.
In instances where the parcel is located in a Form-Based District, the underlying zoning designation is superseded by the applicable Building Envelope Standard of the Form-Based Code.
How do I rezone a property?
Rezoning a parcel is not a simple process and not appropriate in most situations; Zoning staff may be able to suggest a simpler solution. If rezoning still seems necessary, you will need to call Zoning to schedule a meeting with the Zoning Administrator, Mary Hart-Burton, to discuss whether a rezoning is truly appropriate/feasible and to review the process.
Can I build across multiple parcels?
Flat work - driveways, sidewalks, etc- and fences can be built across lot lines, but no structure (including decks and stairs) may be built across parcels. If you intend to build across two existing parcels, you should contact the Board of Public Service to initiate a lot consolidation.
Is this sign allowed?
The Comprehensive Sign Control Regulations govern what signage is allowed in the various zoning district. Signs include but are not limited to stickers/paint in windows, murals on walls, banners, and text on canopies. All signs, permanent AND temporary, require a permit. 
What can I do about a problem/nuisance business?
If you believe the property has building code violations, you can call the Building Division to file a complaint, and a Building Inspector will be sent to inspect the property. If a problem is found, a notice of violation and a potential fine will be issued. If the issue is severe enough, the property may not be allowed to be occupied.
If the property is a business or was otherwise granted some sort of occupancy permit, you can submit a complaint to Zoning. If there is an occupancy permit with conditions, a Zoning Inspector will be sent to confirm any possible non-compliance. If it is found that the business is operating in violation of it's conditions, it will be given an opportunity to come into compliance. If the business fails to come into compliance, the permit will be revoked.
What fees are required for....?
Please see this list of fees for Building Division services. Payment by cash or check is required; an ATM is located in the Building Division's Cashier's Office.