Fire Department
Established on Sept. 14, 1857, the St. Louis Fire Department is the second oldest career Fire Department in the United States
Contact Info
Phone: (314) 533-3406
Address:
1421 N. Jefferson Ave
Hours:
24 x 7 M-Sun
Most Requested
Call 9-1-1 immediately for a fire or medical emergency.
If you are a resident seeking a smoke alarm, please contact Fire Headquarters at (314) 533-3406.
If you are seeking a fire incident report, please contact Fire HQ at (314) 533-3406.
Careers with Fire Department
Information on careers with the Fire department including links of how to apply, pay scale and requirements for firefighter and EMT, and the Fire Academy.
Firehouse Locations
Firehouse Locations in the City of St. Louis
Contact Information
More Contact Info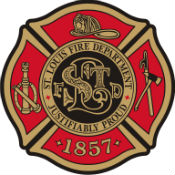 Phone: (314) 533-3406
Fax: (314) 533-1681
Hours:
24 x 7 M-Sun
Address:
1421 N. Jefferson Ave
St. Louis, Missouri 63106
Get directions to this address