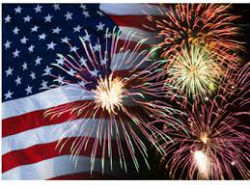 Leave Fireworks to the Professionals
Each July Fourth, thousands of people, most often children and teens, are injured while using consumer fireworks.  Despite the dangers of fireworks, few people fully realize the associated risks that come with the use of consumer fireworks – devastating burns, other injuries, fires, and even death.  The National Fire Protection Association, Safe Kids Worldwide, the National Council on Fireworks Safety, and Prevent Blindness are just a few of the organizations that are urging the public to leave fireworks to the professionals this year.  Avoid the use of consumer fireworks and instead, enjoy displays of fireworks conducted by trained professionals.  In the event you are in an area where consumer fireworks are being used, be prepared for an accident or injury.  Here are a few tips from Safe Kids Worldwide:
Stand several feet away from lit fireworks.  If a device does not go off, do not stand over it to investigate it.  Put it out with water and dispose of it.
Always have a bucket of water and/or a fire extinguisher nearby.  Know how to operate the fire extinguisher properly.
Be extra careful with sparklers, which can heat up to 1,200 degrees, a temperature hot enough to melt glass.
If a child is injured by fireworks, immediately go to a doctor or hospital.  If an eye injury occurs, don't allow your child to touch or rub it, as this may cause even more damage.
The best way to protect your family is to not use any fireworks at home.  Instead, attend public fireworks displays and leave the pyrotechnics to the professionals.
Upcoming Events
Now through June 28 -- A Night at the Tonys, Our Lady of Sorrows Parish Hall, 5070 Rhodes Avenue, 7:30 p.m.
The talented Our Lady of Sorrows theater group will present its cabaret style musical, "A Night at the Tonys" -- a fun-filled musical that will have you singing along and tapping your toes.  Travel back in time with songs that have been nominated for or won a Tony on Broadway.  Come join us Friday, June 26; and Saturday, June 27 at or on Sunday afternoon June 28 at Refreshments will be available before the show begins and again at intermission.  The production will take place at Our Lady of Sorrows Parish Hall at 5070 Rhodes Avenue and tickets are only $7.00 for all ages.  You can place reservations at (314) 650-9394 or via email at djlucido@sbcglobal.net.  After June 21, plan on getting your tickets at the door.
Now through June 28 – Circus Flora, 3511 Samuel Shepard Drive in Grand Center, performance times vary
Travel back to The Jazz Age – to a time when American cities grew rapidly, becoming home to families from all walks of life and corners of the map – when you attend Circus Flora's "One Summer on 2nd Street."  Invite your friends and family to journey with you to a typical block in a typical city on a typical day – and meet a very atypical set of families – all under the Big Top this summer.  For ticket information, visit the circusflora.org web site.
Now through June 27 – St. Lou Fringe Festival, Grand Center venues, times vary
The Fourth Annual St. Lou Fringe Festival is bringing two weeks of Fringetastic programming in five of the stellar venues in Grand Center:  Kranzberg Studio/Black Box, Duet Gallery, CEL, and The Stage at KDHX.  Tickle your fancy with theater, dance, comedy, musicians, spoken word and one-of-a-kind artistic expression.  Both a badge and a ticket are required to enter any show at the Festival.  The badge is a one-time purchase and is required for entry into festival events.  It's like the State Fair:  a nominal entry gets you in, then you get to pick your rides (shows) and get those tickets individually.  One hundred percent of ticket sales go to the performers and technical artists  .For a detailed schedule, tickets and more information, visit www.stlfringe.com.
June 26 - 28 – PrideFest St. Louis, Soldiers' Memorial, 1315 Chestnut Street,
The annual PrideFest celebration will kick off this Friday at Soldiers' Memorial in exciting Downtown St. Louis. The three-day festival will feature live music, food booths, children's area and more.  The festival will also include a parade with floats and contingents on Market Street, beginning at on Sunday.  For a complete list of all the activities, visit the pridestl.org web site.
Every Friday, May – September – Lunchtime Live, Old Post Office Plaza, 801 Locust,
Lunchtime Live is Downtown's premier outdoor lunchtime party that features live bands, food trucks and great networking opportunities.  Invite your co-workers to join you at this fun way to spend your lunch hour.  For more information, visit the downtownstl.org web site.
Every Friday – STLive on Washington Avenue, participating venues on Washington Avenue in Downtown St. Louis,
Washington Avenue is alive with the sound of music every Friday night all year 'round at various Washington Avenue restaurants such as Tigin, Pi, Robust, Takaya, Dubliner, Copia, Flamingo Bowl, Hair of the Dog, Blondie's, Lucas Park Grille, Rosalita's, Wash Ave Post, Hiro Asian Kitchen, Sen Thai and many more.  Restaurants offer drink and dinner specials in addition to the live music.  All genres of music – from pop to jazz to country to rock -- are represented.  There is something for everyone to enjoy.  For more information, visit the STLiveMusic page on Facebook.
June 27 – Free Landlord Training, North Newstead Association, 4601 Pope Avenue, to
The North Newstead Association will be providing Free Landlord Training this Saturday.  The topic of the training is Lead hazards, the consequences for non-compliance and financial assistance for Lead remediation training.  If you would like further information about this free training, please visit www.northnewstead.org or call the office at (314) 385-4343.
June 27 -- 2015 Soulard Garden Tour, Mad Art Gallery, 2727 S. 12th Street,
The Soulard Alliance will kick off the 2015 Soulard Garden Tour this Saturday at Mad Art Gallery.  Spend the day enjoying elegant and stunning flowers, decorations and other "Art in the Garden" at nine stops which will include private gardens, music throughout the tour and a private wine garden at the beautiful, award-winning Soulard Station.  For complete information about the event, or to purchase tickets, visit www.soulard.org.
June 27 -- The Macklind Mile, Big River Running-South City, 5352 Devonshire Avenue, to
Returning for its eighth year to the Southampton Neighborhood, the Macklind Mile this Saturday will feature a street party and one-mile run/walk for the entire family.  There will be waves for all abilities:  Recreational wave (beginners, casual walkers, strollers, leashed pet), Men's and Women's respective competitive waves, a kid's quarter mile dash for ages 10 and under, and an Elite wave where visitors will be able to watch some of the fastest athletes from the St. Louis area compete to break the course record.  To learn more about the event, to register as a participant, or to register to volunteer, please visit www.macklindmile.com.
June 27 – Community Festival 2015, Mt. Esther Missionary Baptist Church grounds, 4720 Greer Avenue,
The Second Annual Community Festival sponsored by Mt. Esther Missionary Baptist Church will take place this Saturday on the church grounds.  The free event is for all ages.  Guests will enjoy food, entertainment, face painting, health screenings and much more.  Make it a family outing by inviting your relatives and friends to join you.  Need more information?Call (314) 389-6610.
June 27 – Bicycle Drive, Journey Tower Grove Church Offices, 4900 Reber Place at Kingshighway, to
St. Louis Bicycle Works is partnering with the Journey Church to host a bicycle drive to collect adult and children's bicycles.  Bikes can be any style, in any condition.  Your donations will benefit children and young adults in the St. Louis area by giving them an opportunity to receive a bike.  Bicycle works provides bicycles to youth between the ages of 7 and 17 who successfully complete their Earn-A-Bike program, and needs your help to continue its efforts to provide positive outcomes in our community.  For more information, visit thejourney.org web site.
June 27 – Renegayed, South Grand at Hartford,
This year's Tower Grove Pride celebration, "Renegayed," will take place this Saturday along the South Grand business corridor and will feature vendors, food trucks, bands, entertainers, hand-built exhibits and home-grown activities.  To learn more, visit the towergrovepride.org web site.
June 27 -- Surreal Sista recording LIVE, UrbArts, 2600 N. 14th Street, 7 to 8:30 p.m.
UrbArts will be recording Surreal Sista's latest works in a CD before a LIVE audience this Saturday  .The CD will include all original poetry, stream of consciousness, lyrics and spoken word written and performed by Surreal Sista with other local accompaniment.  For more detailed information about Surreal Sista, visit surrealsista.wordpress.com.
June 27 -- Summer BBQ Concert, Greg Freeman Park at Four Corners, 6000 Kingsbury Avenue at Des Peres Avenue, 6 to 9 p.m.
Bring your friends or the whole family to the free Skinker-DeBaliviere (SD) Concert Series which will kick off this Saturday.  BBQ & beverages will be available for sale.  Barefoot Jones (including some SD neighborhood musicians) is scheduled to perform.  All proceeds from the event help support the concert series.  Need more information?Call (314) 862-5122.
June 27 -- Free Concert, Benton Park, Arsenal & S. Jefferson,
The 2015 Benton Park Event Series continues this Saturday with a free concert.  Performers will include the Brewbadours, Genevieve, and Jeremiah Johnson & the Sliders.  Invite your neighbors to join you for a fun evening of music in the park.  For more information, visit the bentonpark.org web site.
June 28 – Free Concert, Ivory Perry Park, 800 N. Belt,
This family-friendly outdoor concert series has been made possible by the Whitaker Foundation for more than 10 years.  Hear some of the best local R&B, soul, jazz and gospel coming at you from the Commerce Bank stage in this beautiful park.  Bring chairs to sit under the tent or a blanket to spread on the lawn, then open your picnic basket or buy from vendors on-site.  Get details on the bands and the location at the ivoryperrypark.com web site.
June 28 -- Bridge Birthday Bash and Bicycle Ride, Old Chain of Rocks Bridge, 10950 Riverview Drive,
Celebrate the 86th birthday of the Old Chain of Rocks Bridge this Sunday with a scenic, family-friendly bike ride and the Birthday Bash, where you will be able to enjoy cake, live music, beer, and food for purchase.  Routes and prices vary.  Register online at trailnet.org or call (314) 436-1324.
June 28 – Bar-Be-Que, Polish Cadets Lodge 1134, 8201 Vulcan Street, to
Polish Cadets Lodge 1134 will hold a Bar-Be-Que this Sunday.  Guests will have a choice of Pork Steak or Polish Sausage, two sides, coffee or tea, and dessert, all for $10.  Carryouts will also be available.  The lodge is located just four blocks north of River City Casino at the corner of Davis and Vulcan.  Questions?  Call (314) 351-3620.
June 28 – Homecoming, Sts. Peter & Paul Catholic Church, 1919 S. 7th Street, to
Bring your whole family to the Sts. Peter & Paul Homecoming this Sunday.  The free event will have something for everyone, including a free concert by Miss Jubilee and the Humdingers, delicious food and beverages, a silent auction and more.  Questions?  Call (314) 231-9923.
June 28 -- Lindenwood Live Concert, Lindenwood Park, Pernod & Jamieson Avenues,
Gather up your neighbors and friends and come enjoy the sound of the Yessir Band this Sunday at the Lindenwood Live Concert in Lindenwood Park.  Food trucks will begin serving at , and the music will begin at Go to the lindenwoodpark.org web site to learn more.
June 28 – Free Concert, Carondelet Park,
The Carondelet Community Betterment Federation is presenting its 27th Annual Concerts in the Park Series now through Aug. 23rd.  Each concert is free to the public.  Bring your blanket and friends and join the fun at the performance by Tommy Halloran Guerilla Swing this Sunday in Carondelet Park.  For details about the concerts at Carondelet Park and others that will be held in South St. Louis Square Park, Fanetti Park and Bellerive Park throughout the summer, visit www.carondeletliving.com.
June 30 – First Last Tuesday with Trailnet Lunchtime Concert, Old Post Office Plaza, 8th and Locust, .
In anticipation of Trailnet's 2015 Share the Street Party, Trailnet has launched a new summer series entitled, "Last Tuesday with Trailnet."  These lunchtime concerts will be held every last Tuesday through the summer at Old Post Office Plaza in beautiful Downtown St. Louis.  The series will kick off this Tuesday, June 30 with a performance by the Bottoms Up Blues Gang.  For more details, visit the trailnet.org web site.
June 30 – Free Concert, Fanetti Park, Michigan & Ivory,
Bring your chairs, blankets and friends to Fanetti Park on Tuesday, June 30 for a free concert by Diesel Island.  The Carondelet Summer Concerts in the Park Series is a longstanding annual celebration of diverse music, hosting local musicians at various parks in the Carondelet neighborhood each week.  For more information, visit the carondeletliving.com web site.
Every Wednesday – Wednesday Lunch Free Concert Series, Citygarden, 10th & Market,
The Wednesday Lunch bands at Citygarden have returned and perform every Wednesday through Aug. 26.  Stop by the garden next Wednesday and catch the free concert by Root Diggers.  Visit the citygardenstl.org web site for more details.
Every Thursday – Whitaker Urban Evening Series, St. Louis Place Park, Rauschenbach & St. Louis Avenue, 7 to 9 p.m.
The Whitaker Urban Evening Concert Series will take place every Thursday night now through July 16 in historic St. Louis Place Park.  The evening will feature live music by established artists, children's activities, and food trucks.  Invite your family and friends to join you for an unforgettable evening in the park.  For more information, visit the gracehillsettlement.org web site.
Now through August 23 – Lantern Festival:  Magic Reimagined, Missouri Botanical Garden, 4344 Shaw Boulevard, times vary
This year's Lantern Festival:  Magic Reimagined has brought all-new lighted works of art to the Missouri Botanical Garden for the summer.  The all-new sets crafted from silk and steel are once again offering visitors from around the world the opportunity to experience an event rarely staged outside of Asia.  For ticket information, visit the missouribotanicalgarden.org web site or call (314) 678-7442.
Save the Date
July 2, 3 & 4 – 35th Annual Fair Saint Louis, Art Hill in Forest Park,
July 4 – 138th Annual Veiled Prophet Parade, in Forest Park,
July 4 – Free Concert, Lafayette Park (SE Corner),
Promoting Your Neighborhood Activities
Is there a neighborhood event on the schedule that you would like noted in the Spotlight?  If so, you may email the information about it to me at GrayR@stlouis-mo.gov or to Cathy Smentkowski at smentkowskic@stlouis-mo.gov for consideration.  You may also post it on the City's Calendar of Events on the City's web site:  http://stlouis-mo.gov.  The link to submit an event is at the very bottom of the home page.  The listing is free.  I encourage you to take advantage of this free way to promote your event.
Workshop for Non-Profit Organizations
St. Louis Community Development Administration will hold a workshop from to on Monday, June 29 designed to assist non-profit organizations as they prepare to apply for 2016 Community Development Block Grant (CDBG) funding through the City of St. Louis.  CDA staff will provide an overview of key principles and skills necessary for effective CDBG proposal development and provide examples of best practices.  The Non-Profit Capacity-Building Workshop Series is free and open to all non-profit organizations doing business in the City of St. Louis.  Registration is required.  Please contact Alana Green at CDBG@stlouis-mo.gov or (314) 657-3700 with questions.
Col. Richard Gray
Director of Public Safety
City of St. Louis
Department:


Department of Public Safety