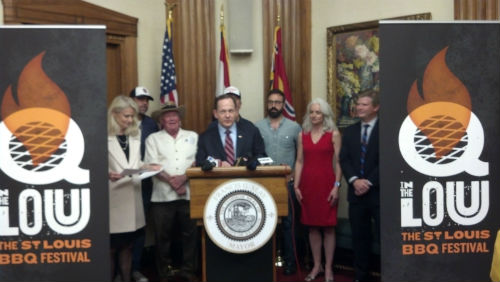 Officials from Downtown STL, Inc., the St. Louis Convention and Visitors Commission, Eximius Productions, several nationally recognized barbecue masters and other civic leaders gathered in Mayor Francis Slay's office today to announce a sizzling new world-class barbecue festival that will be held in the heart of Downtown.  Q in the Lou is planned for Sept. 25-27 at Soldiers' Memorial.
"Our city is recognized as one of the best places in the country to enjoy fantastic barbecue," said Mayor Slay.  "This first Q in the Lou capitalizes on that reputation to draw the very best pit masters from St. Louis and the nation to downtown for a great new event."
This free event will feature nine of America's legendary pit masters and will include educational seminars, fantastic local music, competitions, delicious beverages, barbecue tool demonstrations, and of course, the best barbecue in America!
Additional announcements will be made in the coming weeks as vendors are added and plans are finalized.
A portion of the proceeds generated by Q in the Lou will go toward the restoration of Soldiers' Memorial in Downtown St. Louis.
Visit qinthelou.com for the latest information.
# # #
Department:


Department of Public Safety

1 comment from someone like you has helped us improve this page. Keep the feedback coming!