Update 11/19/2022 9:00am
The Precautionary Boil Water Advisory that was issued on 11/18/22 for a portion of St. Louis Water Division's service area Downtown has been lifted. The Water Division conducted several tests of water samples in the affected areas and has verified the water is not contaminated and is safe to consume.
Post From 11/18/2022
The City Water Division has issued a precautionary boil water advisory for portions of its service area due to low water pressure caused by a broken 36" water main. 
The neighborhoods affected area under the precautionary boil water advisory are:
St. Louis Place, Old North St. Louis, Carr Square and Columbus Square
Downtown and Downtown West
Peabody-Darst-Webbe, LaSalle Park, Soulard and Kosciusko
See map below or interactive map for the specific boundaries of the affected area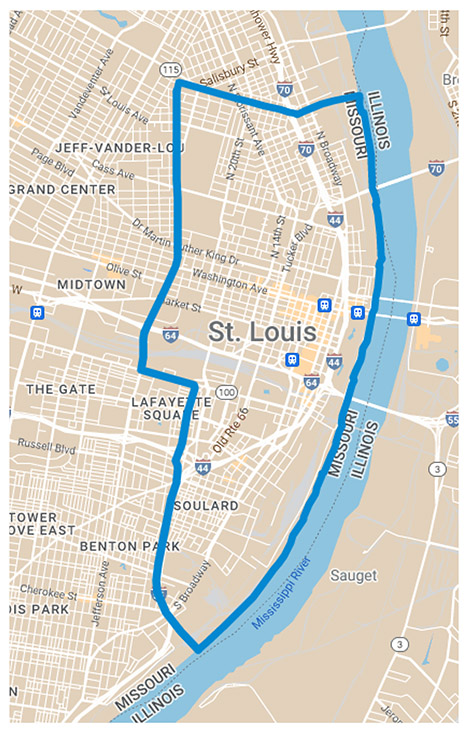 The Water Division has not detected any contamination to the water supply and has issued the boil water advisory out of an abundance of caution. The boil water advisory is in effect until further notice. The Water Division will analyze water samples before determining when to lift the boil water advisory. Test results will be available in 24 hours.
Boil Water Advisories and Orders Frequently Asked Questions
To learn more about your drinking water, call the Missouri Department of Natural Resources at 800-361-4827. If you are served by a public water system, call the EPA's Safe Drinking Water hotline at 800-426-479.
If you get your drinking water from a private well, contact the Missouri Department of Health at 800-392-0272.
For More Information
City of St. Louis - Water Division
Customer Service Section
1640 S. Kingshighway, St. Louis, Mo. 63110
314-771-2255
www.stlwater.com
Missouri Department of Natural Resources
Water Protection Program - Public Drinking Water Branch
P.O. Box 176
Jefferson City, MO 65102-0176
800-361-4827 or 573-751-5331 office
573-526-1146 fax
www.dnr.mo.gov/env/wpp
Contact Information:


Thomas Coriell
Network & Communications | Information Systems Support Manager
Office Phone: (314) 633-9048

Department:


Water Division