North I-44 Historic District
North I-44 Historic District Ordinance and Standards that regulate New Construction and Additions to existing buildings.
North I-44 Historic District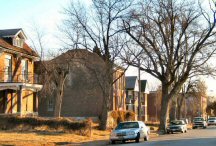 The North I-44 Historic District encompasses the southern portion of the McRee Town neighborhood, including the Botanical Heights subdivision. The area originally developed as Dundee Place and was promoted as a streetcar suburb, however the industrial growth at the northern edge of the district led to the construction of multi-family residences to house the growing number of industrial workers.
Built primarily from 1885 to 1932, the historic buildings in the district exhibit a variety of architectural styles ranging from Queen Anne to Craftsman, Italianate to Classical Revival.  In 2009, the western section of the district was listed as the Liggett & Myers National Register Historic District.