Henry Shaw's Town House - City Landmark #23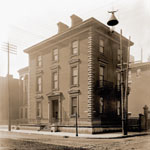 This tall three story townhouse was originally built for Henry Shaw in 1850 at the southwest corner of Seventh and Locust.  Architect George Barnett designed the building in the Victorian Renaissance Revival style. 
The brick and stone building was moved per Henry Shaw request at the time of his death in 1889 to the Missouri Botanical Garden at 2315 Tower Grove Ave. 
The home is now used as administrative offices and a library. 
The house was made a City Landmark in 1971.