Water Treatment
How the City of St. Louis gets and treats its water supply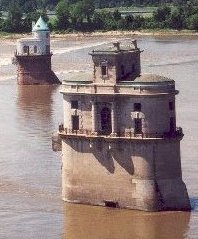 The City of St. Louis Water Division maintains two water treatment plants that draw water from the area's two main rivers. The Chain of Rocks Plant is located on the Mississippi River about eleven miles north of the center of the City and about five miles south of the confluence of the Missouri and Mississippi Rivers. The Howard Bend Treatment Facility is located on the Missouri River, 37 miles above the confluence of the Missouri and Mississippi Rivers and 15 miles west of the City limits. Combined, these two plants have the capacity to treat and distribute 380 million gallons of water per day (M.G.D.).
In our dedication to provide the highest quality water to our customers, we continually monitor, test, and purify this water. The Water Division always maintains a sufficient amount of chemicals on hand for use in purifying and disinfecting the water.
For a basic explanation of the water treatment process visit the U.S. Environmental Protection Agency's website.
Related Information