Milkweeds for Monarchs
The St. Louis Butterfly Project
About Milkweeds for Monarchs
On Earth Day 2014, former Mayor Francis Slay launched Milkweeds for Monarchs: The St. Louis Butterfly Project to help foster the connection between people and urban natural resources where they live, work, learn and play. Milkweeds for Monarchs (overview document here) aligns with the City of St. Louis Urban Vitality & Ecology effort, and advances objectives in the City of St. Louis Sustainability Plan. The City commenced the effort by establishing 50 monarch gardens in 2014; most of these gardens are located at fire houses and City parks across the City. The community was challenged to plant an additional 200 monarch gardens to celebrate the City's 250th birthday. Gardens that were created and registered appear on the Milkweeds for Monarchs Map (see left tab). The urban monarch conservation program was expanded in 2015 by reaching further into the community - such as at 50 urban schools - and was expanded again in 2016 to create a St. Louis Riverfront Butterfly Byway - a collection of sites totaling a 30-acre pollinator pathway, or corridor, along the Mississippi Riverfront. The St. Louis Riverfront Butterfly Byway was completed in the Spring of 2018, and will soon include 11 interpretive panels at prominent locations.  Information relating to Milkweeds for Monarchs: The St. Louis Butterfly Project is listed below or found on the left tabs. 
The Great MonArch Migration Event was held in partnership with the National Park Service at the Gateway Arch National Park in September 2017 and 2018 (click on links to view photo galleries)
NEW: How to Create the Monarch Butterfly Origami  - this video tutorial was created by Landscape Architecture students at Iowa State University. (September 2018)
2017 St. Louis Monarch Photo Contest winners (August 2018).
St. Louis Riverfront Butterfly Byway Map (July 2018)
St. Louis Riverfront Butterfly Byway Interpretive Panel (May 2018)
American Planning Association magazine article about Milkweeds for Monarchs: The St. Louis Butterfly Project efforts (November 2017)
Catherine Werner's presentation on the City's urban monarch conservation efforts at the Smithsonian Institution Wild Cities: The Buzz About Urban Pollinators (June 2017)
The City submitted its final report to the USFWS  on urban monarch conservation education, outreach & research programs (Feb 2017)
In partnership with the Missouri Botanical Garden, Saint Louis Zoo, and U.S. Fish & Wildlife Service, the City created Monarch Gardens for Schools: A Resource Guide for PreK-12 Urban School Communities (Feb 2017)
Map highlighting the City's monarch conservation efforts 2015-2016 (Feb 2017)
The City received the US Conference of Mayors GRO1000 Gardens & Greenspaces national award to create monarch habitat areas along the St. Louis Riverfront Butterfly Byway (Jan 2016)
Milkweeds for Monarchs was featured in the December American Planning Association's Urban Design & Preservation publication, titled "St. Louis is Aflutter for Monarchs" (Dec 2015)
Mayor Slay's leadership in urban monarch conservation efforts are featured throughout the National Wildlife Federation's guide to monarch conservation in cities (Dec 2015)
The City received a $155,000 Monarch Conservation grant from NFWF for a new St. Louis Riverfront Butterfly Byway (Sept 2015). The Butterfly Byway will have been established in early 2018, and include interpretive panels at several locations.
Mayor Slay launched the NWF's Mayors' Monarch Pledge with National Wildlife Federation president, Collin O'Mara (Sept 2015)
Planting a Future for Monarchs - USFWS article featuring Milkweeds for Monarchs: The St. Louis Butterfly Project (August 2015)
Catherine Werner's webinar presentation on urban monarch conservation, featuring Milkweeds for Monarchs (July 2015)
City of St. Louis received an $80,000 grant from USFWS to advance urban monarch conservation through research and outreach (June 2015).
STL Monarch Origami (April 2015)
U.S. Conference of Mayors Newsletter (May 2014)
Milkweeds for Monarchs Initiative update (Summer 2014)
Steps to Creating and Caring For Your Monarch Garden
Below are step by step instructions, with associated guidance materials, that are specific to a monarch garden. For information on
creating a pollinator garden
, you may also want to visit this How To guide from the City's Sustainable Neighborhood Toolkit.
Milkweeds for Monarchs Garden Criteria 
We encourage you to meet the following criteria to register your garden on the City's map:
Garden must be in the City of St. Louis.
Garden should be newly planted or expanded (this may include adding STL Monarch Mix plants to a pre-existing garden).
Garden should contain 4 milkweed plants representing at least 2 different milkweed species (example: 2 Butterfly Weed plants and 2 Swamp Milkweed plants). 
Garden should contain 5 nectar plants representing at least 3 different species (example: 2 Purple Coneflower plants, 2 Goldenrod plants, and 1 Black-Eyed Susan plant). 
In total, garden should contain a minimum of 9 plants, covering at least one square meter (approximately 9 square feet). Using the STL Monarch Mix is strongly recommended.
Register your monarch garden
Register your Garden to have it appear on the citywide map, and to help us count the number of monarch gardens created in the City. 
View Map and Description of Monarch Gardens registered in the City of St. Louis to check on the citywide progress!
Other Monarch Information
Check out the following resources to learn more about monarchs and monarch gardens:
The Great MonArch Migration Event Photos -2017
The Great MonArch Migration Event 2018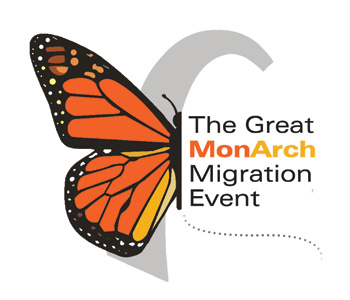 September 2018: The City & National Park Service held The Great MonArch Migration Event 2018. The festival included monarch-themed activities, free plants, seeds and information, and opportunities to learn from pollinator experts at the Arch. The 2018 Event Flyer lists activities, photo galleries are available, as is the Show Me Saint Louis Video (2017).