St. Louis Agency on Training and Employment
Connecting job seekers to training programs and employment, helping employers diversify their workforce, and assisting youth with career skills
For Job Seekers
Looking for a new job or changing careers? Our experienced team offers an extensive variety of educational, training, and support services to St. Louisans of all ages, abilities, and career paths. Our programs invite workers to find a meaningful employment at no cost to them!
Getting Started
Have you registered at MoJobs? This is the first step for both job seekers and employers. Gain access to our no cost online system for job postings, hiring events, educational and skills learning programs, labor market information and much more. For customized employment assistance, please call (314) 589-8000. 
For Employers
We build relationships with hiring managers at local companies to provide them a full range of talent resources and management services. Our team of modern recruiters uses data-driven strategies to cast a wide net to find qualified applications at no cost to employers.
Sign Up for Recruitment Assistance
🌟 Introducing Our 2022-2023 Annual Report: Discover Our Impact!
Explore our latest Annual Report, showcasing a year of remarkable achievements and the tangible difference we've made in our community. Our report shares compelling success stories, highlighting how our efforts have propelled numerous individuals toward successful careers. Aligned with our vision for a thriving regional economy, this report reflects our commitment to increasing employment, retention, earnings, and individual skills. Dive into the transformative journey we've embarked upon and witness our dedication to shaping careers and fostering prosperous communities in St. Louis. 
Community Partners
We partner with a variety of government, state, and community organizations. Learn about our partnerships and how they benefit businesses and job seekers right here in the City of St. Louis.
---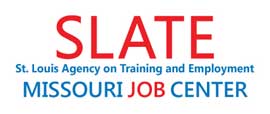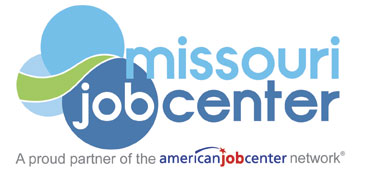 SLATE Missouri Job Center is an Equal Opportunity Employer and Service Provider. Auxiliary aids and services are available upon request to individuals with disabilities. If you need this information interpreted to a language you understand or in a different format, please contact 314-589-8000. Callers who are deaf or hearing or speech-impaired may reach us at Missouri Relay Number 711.
>> Equal Opportunity & Accommodations
>> Notice of Federal Funding and Federal Disclaimer
>> Babel Notice
St. Louis Agency on Training and Employment Menu
Contact Information
Email: info@stlworks.com
Phone: (314) 589-8000
TTY Phone: 711
Hours:
Our Job Center is open Monday through Friday, from 8 a.m. - 5 p.m., except on Wednesdays, from 9 a.m. - 5 p.m. We are closed on legal holidays.
Please note that registering with MoJobs and updating your profile prior to visiting us will save you time at the Job Center. Register at https://jobs.mo.gov/
External Website:
http://www.stlworks.com
Address:
1520 Market St., 3rd Floor,
St. Louis, Missouri 63103-2634

Get directions to this address
1 comment from someone like you has helped us improve this page. Keep the feedback coming!