Frequently Asked Questions
FAQ/ Ask a Question
Using SLATE Missouri Job Center
What is SLATE Missouri Job Center?
SLATE Missouri Job Center is a federally funded program that helps job seekers find jobs by providing them with career counseling, job leads, skills upgrade, training, resume preparation assistance and much more. SLATE Missouri Job Center also helps businesses find qualified workers, provides labor market information, wage information, tax credit assistance, federal bonding for certain new hires and more. 
I'm a Missouri Job Center - St. Louis County member. Can I visit SLATE Missouri Job Center?
Yes. Once you are a member, you can access services at any Missouri Job Center.
Who is eligible to use SLATE Missouri Job Center?
Anyone 18 years or older can use SLATE Missouri Job Center. There is no income, citizenship, or residency requirements. If you are under 18 years old, you can receive assistance form UrbanForce, the St. Louis Department of Youth Services.
If I'm employed, can I still use SLATE Missouri Job Center?
Yes. SLATE Missouri Job Centers offer services to people who are employed and want to find a new job, people who are about to be laid off, and people who are unemployed.
Do I need to pay to use any of the SLATE Missouri Job Center services?
No. All SLATE Missouri Job Center services are free.
I live outside of the St. Louis City. How can I access workforce services nearest me? 
To find job preparation and placement services nearest you, click on http://www.servicelocator.org to use the America's Service Locator website for One-Stop Career Centers.
Services at SLATE Missouri Job Center
Why should I use SLATE Missouri Job Center
Staff at SLATE Missouri Job Center wants to help everyone to find meaningful and successful career. It is trained to provide you with resources and information you need to succeed. While we don't guarantee anyone a job, we do our best to help you, and most people find employment. We work with hundreds of job seekers and typically place about 80 people in jobs per month.
Can you help me over the Internet if I tell you what type of job I'm looking for or if I send you my resume?
No. You must attend SLATE Missouri Job Center in person and become a member to be connected to employment opportunities.
What kinds of jobs are available through SLATE Missouri Job Center?
We can help you connect to a wide variety of jobs. Some of the most popular jobs we connect members to are in the fields of healthcare, manufacturing, information technology, retail, transportation, and food service. We have placed members in a wide range of other jobs as well, including telecommunications specialists, maintenance workers, office assistants and clerks, and much more. Visit SLATE Missouri Job Center to find out about our full range of current job openings in a large number of fields.
How long will it take to find a job?
It will depend on the amount of time and effort you put into your job search, the demand for the job you are looking for, your ability to travel to the job location, having the necessary skills required, having a good resume, accurately filling out an application and successfully completing an interview. We can help you with many of these issues, but you have to be committed. On average, it may take you anywhere from two weeks to three months to find a job through SLATE Missouri Job Center. For some professions, it may take longer - six months or more, especially if you were making a high wage in a highly specialized job.   
Can you help me if I have a criminal record?
Yes. We can help individuals with a criminal record to find a job. While it may take longer to find a job for a person with a felony, we help many people with similar backgrounds every day .  
How can I find out about training programs?
To find out about training courses, visit Missouri Education and Career Hotlink, where you can search programs approved for tuition assistance. Also, you can search programs by type of training, or by training provider. 
Can you help me with finding childcare?
We have information about the community agencies with childcare assistance as well as other information to help you take care of your basic needs while you're looking for a job.
Can you help me if I haven't worked for several years?
Yes. We can help you to get up to speed through career counseling and assessment, workshops, skills upgrade and, possibly, training.
For Employers
I am an employer who would like to use your recruitment services. How do I find out more?
Through SLATE Missouri Job Center, your company can access quality candidates who are pre-screened to meet your needs. To find out more about how our Center can help your company, visit
www.stlouis-mo.gov/government/departments/slate/employers/
Other
How do I collect Unemployment Insurance?
For information on Unemployment Insurance, please refer to the Missouri Department of Labor's website:
www.labor.mo.gov/DES/
For information on how to apply:
www.ui.labor.mo.gov/som/
For a list of frequently asked questions about Unemployment Insurance:
www.labor.mo.gov/DES/Claims/faqs_web.asp
I have a question that is not answered in these FAQs. Who should I contact?
You can contact SLATE Missouri Job Center by calling us at (314) 589-8000. 
---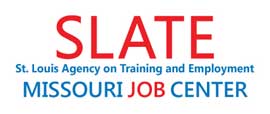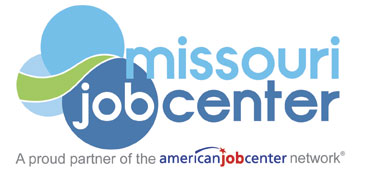 SLATE Missouri Job Center is an Equal Opportunity Employer and Service Provider. Auxiliary aids and services are available upon request to individuals with disabilities. If you need this information interpreted to a language you understand or in a different format, please contact 314-589-8000. Callers who are deaf or hearing or speech-impaired may reach us at Missouri Relay Number 711.
>> Equal Opportunity & Accommodations
>> Notice of Federal Funding and Federal Disclaimer
>> Babel Notice