Tishaura Jones
Mayor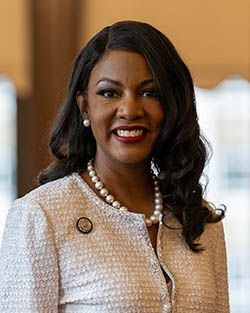 Tishaura Jones was sworn-in as the 47th mayor and the first Black female mayor in the City's history on April 20th, 2021.
Transparency, Integrity, and Service define who she is and how she did it. Since 2012, Tishaura O. Jones has helped the City of St. Louis earn and save over $30 million and counting.
With a deep personal commitment, a wealth of experience, and a proven record of leadership, Jones started her career as a public servant in 2002 when she was appointed as Democratic Committeewoman of the 8th Ward in the City of St. Louis. A history-maker on a mission, she served two terms in the Missouri House of Representatives, and was selected as the first African American woman in Missouri history to hold the position of Assistant Minority Floor Leader. She also is the first African American woman to serve as Treasurer of St. Louis.
Mayor Jones has a Bachelor's degree in Finance from Hampton University and a Master's degree in Health Administration from the Saint Louis University School of Public Health. A graduate of the Executives in State and Local Government program at Harvard University's Kennedy School of Government, she has served as Vice President of Public Finance for Blaylock Robert Van, LLC, an investment banking firm, as well as adjunct faculty at the Anheuser-Busch School of Business at Harris-Stowe State University.
In her tenure as Treasurer, she launched the Office of Financial Empowerment (OFE) to help St. Louisans make better financial choices, as OFE's College Kids Program has helped over 18,000 public school students start saving through educational savings accounts. With over a million and a half dollars saved to date, these college saving accounts will help more city children get a higher education, using parking revenue, family contributions and community support
Mayor Jones' volunteer service is as notable as her robust career accomplishments. A member of Delta Sigma Theta Sorority, Inc., her dedication to public service has earned her numerous accolades including awards from the St. Louis Coalition for Human Rights, the RCGA, and the Lupus Foundation of America. From financial empowerment to the modernizing of services, Jones has helped make city government easier to navigate, easier to participate in, and easier to understand.
She is also the proud mother of Aden.
Contact Information
Email: mayor@stlouis-mo.gov
Phone: (314) 622-3201
Social media:

Address:
City Hall - Room 200
1200 Market Street
St. Louis, Missouri 63103