St Louis Area Agency on Aging
Information on elderly services, transportation, food services, medicare, and other related services.
Top Requested Pages
Contact Info
Phone: (314) 612-5918
Address:
1520 Market
Room 4086
Hours:
Monday to Friday 8am - 5pm
About Us
The St. Louis Area Agency on Aging (SLAAA) provides a comprehensible and coordinated system of community-based services for older adults in the City of St. Louis.
The Agency's objectives are to secure and maintain maximum independence and dignity in a home environment and encourage economic, social and personal independence of older persons by providing opportunities for employment, socialization, and volunteer activities in the community.
Our Service Area
Geographically, the St. Louis Area Agency on Aging serves older adults, and persons with disabilities (18-59 yrs), who reside within the boundaries of the City of St. Louis. 
However, the SLAAA office works with the Mid-East Area Agency on Aging to refer St. Louis City and County residents to the appropriate resources. Also, 
City residents who have out-of- state older adult relatives are referred to the respective area agency on aging in their area.
Assistance Services
Missouri CLAIM

Missouri CLAIM
is a nonprofit providing free, unbiased information about Medicare. They provide local counselors to help you get the most from your
Medicare benefits
.
Active RFPs, RFQs, and RFIs
There are no active RFPs at this time.
Related News & Announcements
Miscellaneous news of interest to those over sixty.
Contact Information
More Contact Info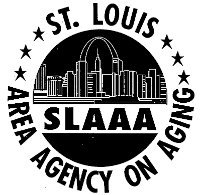 Phone: (314) 612-5918
Fax: (314) 612-5915
Hours:
Monday to Friday
8am - 5pm
Address:
1520 Market , Room 4086
St. Louis, Missouri 63103
Get directions to this address