Megan E. Green
President of the Board of Aldermen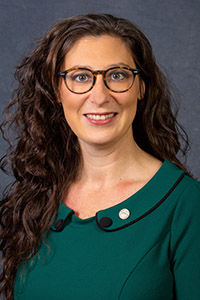 Megan Ellyia Green was sworn in as St. Louis Board of Aldermen President on November 28, 2022. She is the first female president in the city's history.
Green moved to St. Louis in 2005 to participate in the Coro Fellows Program in Public Affairs. She went on to teach in St. Louis Public Schools before running for office as Alderwoman of the 15th Ward.
In her eight years as Alderwoman, Green was a progressive champion of St. Louis—fighting for a higher minimum wage, civilian oversight of the city's police department, reproductive rights for people who can become pregnant, protections for victims of domestic violence, marijuana legalization, and responsible development with community benefits.
As a result of her leadership, Green was presented the 24th Annual Hershel Walker Peace and Justice Award from the Worker's Education Society, and the 2017 Martin Luther King Human Rights Award from the Coalition of Black Trade Unions.
From 2016-2020 Green represented Missouri as a Member of the Democratic National Committee and also sat on the Executive Committee for the Missouri Democratic Party.
President Green has a BA in Political Science from Pennsylvania State University, and a Master's Degree and PhD in Educational Policy from St. Louis University. She is an adjunct professor at the Brown School of Social Work at Washington University in St. Louis where she teaches classes in public policy design, economic development, and social welfare policies.
Her steadfast commitment to St. Louisans as Alderwoman remains in her role as President. She is dedicated to the belief that building a St. Louis that works for everyone is key to the city's success.
Contact Information
Address:
City Hall, Room 232
1200 Market Street
St. Louis, Missouri 63103