Managing Events and Meetings
How to edit and delete calendar events & meetings
Prerequisites
This tutorial assumes you are familiar with the following:
Overview
Contributors are able to manage their events through the Internal Events Administrator. There is another page for managing public events, but your events will not show up there.

It is important to perform edits and deletions from the Internal Event Administrator and not on the event/meeting page itself. If you edit the event's page, the changes you make will not be reflected anywhere else on the site. Making the changes in the Internal Events Administrator will update everything, including the event's page.
Step 1: Go to the Administer Internal Events Page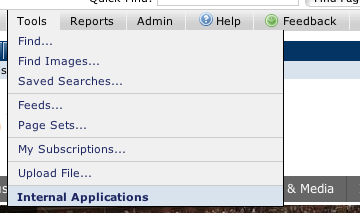 Click on New in the gray toolbar.
Click on Internal Applications.
Click on Administer Internal Events.

Step 2: Find Your Event
By default, the page shows all internal events. At the top is a form you can use to filter the results shown below.
The results section is sorted by the event's start date.
Step 3: Manage Your Event
Once you find your event, there are three actions:
Active/Inactive: Make this event active/inactive (inactive events do not show up on the site).
A label shows the event's current status.
Edit: Allows you to edit this event's properties and status.
Delete: email a request to the web team.
Deleting an Event
Contributors cannot delete events, only disable them.
To delete an event, email the web team at cinweb@stlouis-mo.gov, provide the event title and the event date.
Editing an Event
To change an event, click on the Edit link for that event.
Meeting Type: What kind of event/meeting is this?
You may be asked to fill out more aldermanic information if you select an aldermanic meeting type.
Sponsor: Which department/organization is sponsoring?
Audience: What group of people is this geared towards?
Neighborhood: Which neighborhood might be interested?
Ward: Which ward might be interested?
Title: Your event title.
Do not use special characters or dashes (letters, spaces, and numbers only) in the title until we work out some bugs.
Description: What is this meeting/event all about?
Start Date: When does it start?
End Date: When does it end?
Start Time: What time does it start?
End Time: What time does it end?
Location: Where is it?
Admission: Are you charging for admission, or is it free?
Admission Description: More admission info (who pays what).
Contact Name: Who should be contacted about this?
If they do not have a profile in the system, you can select other and type their name in.
Phone Number: Contact phone number.
Contact Email: What email address can people email about this?
Contact: More contact information
Related Links
Accessibility: Any accessibility considerations and information people should be aware of. Departments can store default accessibility information in the Organzation Element on the department's homepage.
Status: If active, it will show up on the site. If inactive, it will not.
Associated CommonSpot URL: The public link to the event
To apply your changes, click "Update Event."