Profile Pages
How to create profile pages for your department's employees.
Prerequisites
This tutorial assumes you already know the following:
Overview
Everyone who might need their contact information anywhere on the website should have a profile.
Once a person has a profile, that profile information can be reused on other parts of the site. Some examples:

Announcements
Press Releases
Department directories
Examples
Full Profile renderhandler: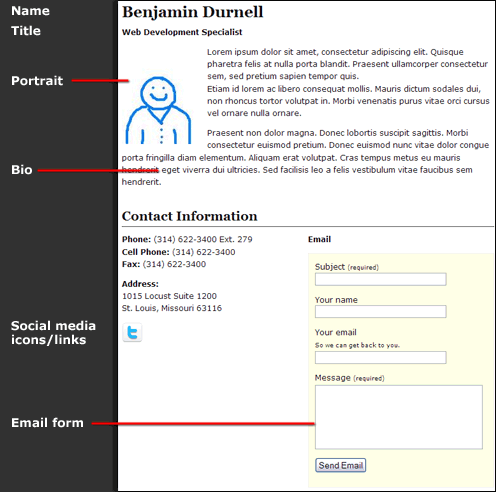 Small Profile renderhandler:

Step 1: Create the Page
Create a new page in the Profiles folder (subsite).
The page's name/title should be the person's first & last name.
The page's description could be the person's title or duties.

Make sure you set the Content Type to be Contact Info/Biography.
Page Display container settings do not apply to Profile Pages.

Step 2: Fill Out the Profile Element

Click on the 'Click here to fill out the profiles element' link.
Type: What kind of profile is this?
First Name: The person's first name.
Middle Name: The person's middle name (not necessary).
Last Name: The person's last name.
Title: The person's position title (alderman, _____ specialist, etc).
Email: The person's email address. People will not see the actual email address so spammers won't find it. Instead, an email form will appear on the profile page.
Office Phone: The person's office phone, with nothing between the numbers (13146223400).
Office Phone Extension: If this person has a phone extension, enter it here (numbers only).
Cell Phone: Person's cell phone number, with nothing between the numbers (13146223400).
Address, City, State, Zip: Person's work address.
Image: Portrait of the person, if available.
Bio: Information about the person.
Facebook URL: Full URL to their Facebook profile.
Twitter URL: Full URL to their Twitter page.
LinkedIn URL: Full URL to their LinkedIn profile.
Status: If the person is no longer employed with their organization, mark 'retired.' Otherwise mark 'active.'
Click Finish.
Step 3: Submit the Profile Element
Check your content for accuracy.
Submit the element & activate the page.