Editing Department Homepage Metadata (Properties)
How to edit a department homepage metadata (properties) to hide or display top requested pages, include a third column option, add a logo in the top right corner, add or hide a large promo photo and link option.
Prerequisites
This tutorial assumes you already know the following:
Overview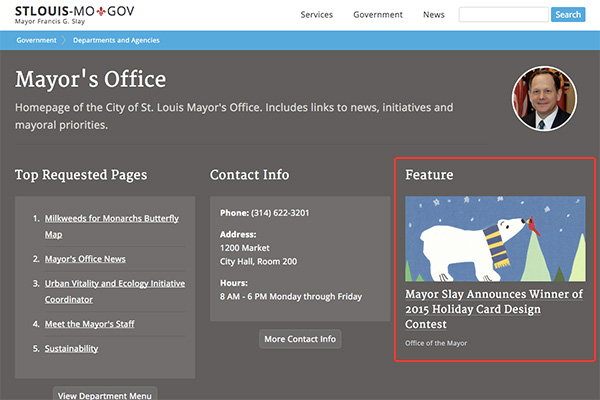 Department home pages have more customization features (related to the website design updates of 12/21/2015). These features are controlled in the page's standard and custom metadata. They include:
Standard Metadata Category field
Custom Metadata New Organization Homepage tab
Show or hide new features
Display and customize a third column
Ddisplay a full-width promotion with a link
Step 1: Updating Standard and Custom Metadata for Department Group Home Pages
To edit a page's metadata go to Properties in the blue toolbar.  
Standard Metadata 
Standard Metadata Category is now 'Group Home Pages'

Click on Standard metadata.
Category is 'Group Home Pages', if  'Informational Pages'  change to 'Group Home Pages' 
Make your desired changes, then click Save.
Custom Metadata Global Tab

Content Type is 'Group Home Page'
Click Save
Custom Metadata Page Display Tab

Layout is Department Home Page
Step 2: Custom Metadata Organization Homepage Tab
Organization homepage is a new tab. You can add a logo, show or hide features, add and customize a third column, include a large-width promo.

Add Logo or Portrait
Uploading a logo or photo is optional

Image is square, good resolution, size 200 x 200 pixels
Choose existing image or upload a new one.
Show Features

Shows 'Top Requested Pages', Department Contact, etc. 
Contact web team staff to change
Third Column Content

Choose options
Nothing display two columns automatically

Top Requested Pages
Department Contact 

Featured News Article

Create the news article on its own page in your news folder first.
Click gear. Use this to link to an existing News Page. DO NOT create a brand new news story from this point.
To link to an existing news page, select Render Properties > One or More Records - Manually Selected (Content Reuse) 
Search for the title of an existing news page
Select, and click finish

Twitter Feed 

Click on gear 
Complete twitter widget with embed script
Click Save

Get Started Buttons

Click on gear > LinkBar element
Add LinkBar item
Enter the link text for the LinkBar item.   Click next
On Link Action Tab find the page. Save.
Return to gear > LinkBar element > select Choose Layout > select Large Buttons option
Click Save 
Full-Width Promotion
Requires a high quality image, a good title and byline and a content page to link to.

Click gear Large promo - no data element
Complete element fields
Enter Title
Enter Short Description
Select Promo photo and find or upload a new image
Image is a high resolution photo between 1000 and 1200 pixels wide
Select Link Location and find the page you want to link to the large promo image.