Editing Page Custom Metadata
How to edit a page's custom metadata, which includes page topic, audience, neighborhood, ward, content type, navigation, page display, and more.
Prerequisites
This tutorial assumes you already know the following:
Overview
A page's standard metadata stores the page's tagging, navigation settings, and page display settings. This includes:
Topic
Audience
Department
Neighborhood & Ward
Content Type
Show/hide in navigation
Page rows & columns
How to Edit Custom Metadata
To edit a page's standard metadata, do the following.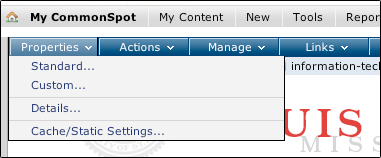 Navigate to the page in question.
Go to Actions in the blue toolbar
Click on Custom metadata

Choose the section you would like to edit from the tabs on top.
Make your desired changes, and press Finish.