Deleting Pages
How to delete pages in the CommonSpot CMS
Prerequisites
This tutorial assumes you already know the following:
Step 1: Locate the Page
Navigate to the page you would like to delete.
Step 2: Delete the Page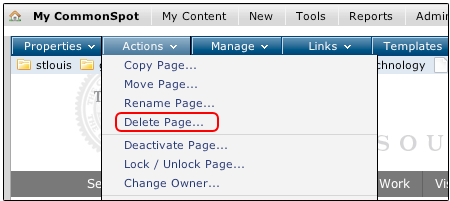 Click on Actions in the blue toolbar
Click on Delete Page
A Confirmation of Page Delete window will pop up.

Click Delete to delete the page forever.
Click Cancel to cancel the deletion and go back to the page.