Publishing Elements
How to submit your elements to be seen by the public.
Prerequisites
This tutorial assumes you already know the following:
Step 1: What Needs to Be Submitted?
Before your new content can be seen by the public, it needs to be submitted and published.
When you insert and define a new element, two changes have been made:
You have added an element to the container.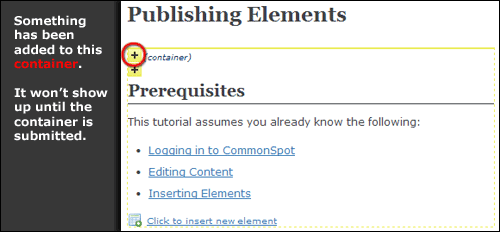 You have added content to the element.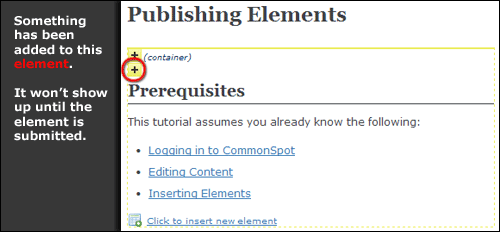 Each of these changes need to be submitted before the public can see the content in your new element.
Quick Check
You can tell when something has yet to be submitted, because the box in the upper-left corner will be yellow. In the example above, the boxes are yellow and contain a plus sign. The plus sign means that something has been added. An arrow in the yellow box means something has been modified.
Do I Need to Submit Both the Container and the Element?
If we were to submit only the element in the above example, the content would not show up, because the change to the container that surrounds the element will not have been submitted. Likewise, if only the container is submitted, the content would not show up because the changes to your new element will not have been submitted.
Step 2: Submitting the Content
After determining which content you would like to submit to the public, click on the yellow box in the upper left corner of the content.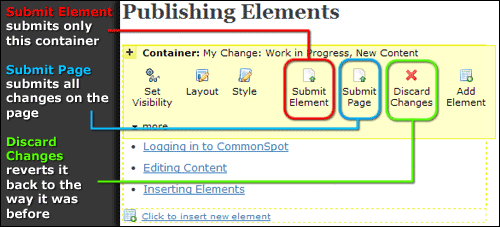 There are four options relating to submissions:
Submit Element: Submits this item only. If you have more than one change to submit you will need to do each one separately when using this option.

If you have made changes to multiple elements on one page, but don't want to submit all of them right now, use this option.

Submit Page: Submits all changes on this page at once.
Discard Changes: Reverts the item to the way it was before you made changes.
Compare: If you change an element that had been published previously, you can compare the before/after versions. See below:

Step 3: Publishing the Content
If your subsite has an approver, then your submitted content will not be live until they approve it. Otherwise, it will be published immediately.